The Soteria Floral 'Nellie' Custom OWB Holster by Soteria Leather is named for Nellie Bly, a journalist, but so much more. Read about Nellie at the bottom of this page. This custom holster is the 'Thrasos with Body Shield' featuring a beautifully crafted hand-tooled design.
As with all of the custom holsters from Soteria Leather, the holsters are efficient and beautifully constructed.

The following information can also be found for the 'Thrasos with Body Shield'.
The 'Thrasos with Body Shield' Custom OWB Holster by Soteria Leather is a favorite handgun holster because of the holster belt straps and the body shield comfort.

The straps that wrap around your gun belt are small, but durable. This feature ensures that your concealed gun will not be seen. A loose outer garment, a t-shirt or a jacket, is all you will need for handgun concealment.

The body shield covers the back of the handgun, the hammer, and the back sight. The body shield is a good option if you are wearing a garment that you do not want the concealed gun to rub against.
Constructed of leather from American cattle
Made in the USA
Available in right-hand and left-hand designs
Designed to fit a 1-1/2" gun belt
Shipment in 14 - 16 weeks
-----
Make it 'yours'
Choose from three leather color options
Choose from twenty-six thread colors
Your choice of single or double stitching
Your choice to add bling

The Name: Thrasos was the "Spirit of Boldness" in Greek Mythology.
-----
NOTE #1: The Soteria Floral 'Nellie' Custom OWB Holster by Soteria Floral is shown with Rhinestone Snaps, that do not come standard with this holster.
NOTE #2 You must order the Rhinestone Snaps separately. Please see link below.
-----
This concealed carry holster is available for the following weapons, and probably more. Please check the "Weapon Options" for a complete list.
Colt Detective
1911 3.5"
1911 3, Commander, Government, Government with Rail
Beretta M9, PX4 Storm Subcompact, Nano
Bersa Thunder
Boberg XR9S
Browning Buck 5.5, Hi-Power
Caracal C, F
Chiappa Rhino 20DS
CZ-75
Diamondback 9, .380. .380 w/Crimson Trace
FNP .45, 9, 40
FNX .45, 9, 40
Glock 17, 19, 20, 21, 22, 23, 26, 27, 29, 30, 36, 42, .357, 42 w/Crimson Trace, 43
H&K P7, USP Compact, P30, HK45
J-Frame
K-Frame
Kahr P380, P9, P40, PM9, PM40, CW9/CW40
Kel Tec PF9, P3AT, P32
Kimber SOLO, 1911 3", 1911 4"
NAA .45, .410 3 Derringer
Rohrbaugh R9
Ruger LC9, LC9 with Crimson Trace, LC9 with LaserMax, LCP, LCP with Crimson Trace, LCP with Laser Max, LCR
Ruger SR9, SR9 Compact, SR40, SR40 Compact, MK111 5.5, SP101
Ruger GP100 3", Ruger GP100 4"
Seecamp .32
Sig-Sauer 220, 226 with Rail, P224, P228, P229, P229 Elite with Rail, P232, P238, P238 with Crimson Trace, P238 with Sig Laser, P239, P938, P938 w/crimson trace
Sig-Sauer P250, P250 Compact, P250 Subcompact
Sig-Sauer P225, P290, Pro P2022
S&W 686 6, Governor, Model 41, 908, 909, 3913 Lady Smith
S&W Bodyguard .380, Bodyguard .38
S&W M&P Full Size 9, M&P Full Size 40, M&P Full Size .45
S&W M&P Compact 9, M&P Compact 40, M&P Shield, M&P Shield w/crimson trace
S&W Sigma, Sigma Compact
Springfield XD Full Size 9, XD Full Size 40, XD Subcompact, XD, XDS, EMP
Springfield XDM Full Size 9, XDM Full Size 40, XDM 3.8, XDS w/Crimson Trace
Taurus 709, Judge 3 Barrel, TCP
Walther PPK, PPS, PPQ, PK380, P99
NOTE: A second row of stitching is an option for Soteria Leather's Custom Holsters. The picture is just showing an example of the stitching.

CLICK HERE: Double Stitching Option for Custom Holsters by Soteria Leather


NOTE: The Swarovski Crystals Snaps Option is available for Custom Holsters from Soteria Leather. The picture is showing an 'example' of the Swarovski Crystals Snaps.

Click Here to add Swarovski Crystals Snaps
NOTE: The Coin & Metal Snaps Option is available for Custom Holsters from Soteria Leather. The picture is showing an 'example' of the Coin & Metal Snaps.
Click Here to Add Coin & Metal Snaps
Leather Color Options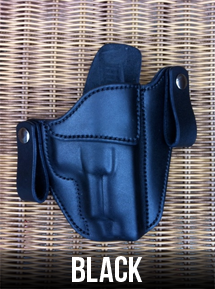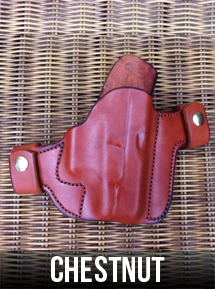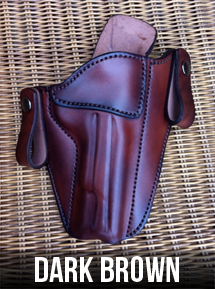 Nellie Bly (May 5, 1864 – January 27, 1922) was the pen name of American journalist Elizabeth Cochrane Seaman. She was also a writer, industrialist, inventor, and a charity worker who was widely known for her record-breaking trip around the world in 72 days, in emulation of Jules Verne's fictional character Phileas Fogg, and an exposé in which she faked insanity to study a mental institution from within. She was a pioneer in her field, and launched a new kind of investigative journalism. (Compliments of Wikipedia)