FREE SHIPPING
SnagMag Concealed Magazine Holster -- INVENTORY SALE ONLY
LEFT HAND SHOOTER - (SnagMag sits in front left pocket)
The SnagMag Concealed Magazine Holster by 1791 Gunleather provides an easy and comfortable option to carry a spare mag pouch. Be prepared. Be safe. It's designed to fit in your front pocket. And, it appears to look like you are carrying a pocket knife.
The SnagMag is designed to 'snag' on the inside of your pocket as you pull the magazine out of your pocket.
Per 1791 Gunleather, the new owner/manufacturer of SnagMag Magazine Holsters: The SnagMag is a patent-pending innovative new magazine holster that discreetly and comfortably allows you to carry an extra magazine with your concealed carry weapon.
Why carry a spare ammo magazine:
You might need more ammunition
You might have a malfunction
Peace of mind
Detailed Information:
Kydek construction
Features a hook to snag on the inside of your pocket
Lightweight
Designed for a Fast Draw
Comfortable to wear
Appears to be a pocketknife
Made in the U.S.A.
Important Notes:
PER 1791 GUNLEATHER: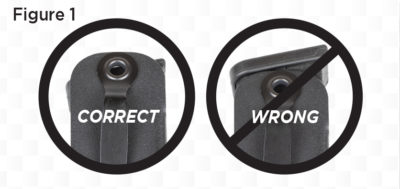 The SNAGMAG™ is a custom fit accessory.* The floor plate should sit below the top edge of the SNAGMAG™, Figure 1. This may require you to gently move the top of the SNAGMAG™ outward to fully seat the magazine.
*The SNAGMAG™ can also be worn inside the waistband as well as in your back pocket. If you wish to carry in your back pocket, make sure to purchase the opposite shooting hand version so that it faces the correct way.
The SNAGMAG™ is designed to be worn in your front, support-side pocket. If you shoot with your right hand, the SNAGMAG™ goes in your left front pocket. It should be placed vertically against the outside seam with the bullets facing forward.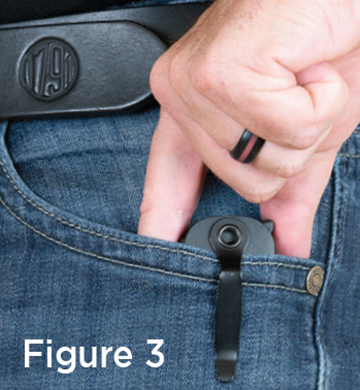 When drawing, your index finger should go into the pocket along the front of the magazine. Your thumb should also be placed onto the magazine.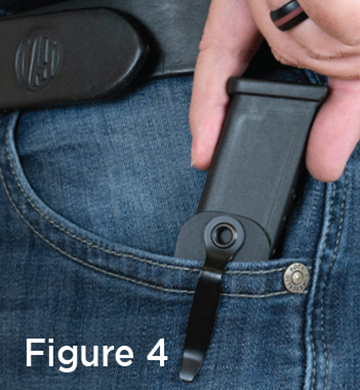 Firmly apply rearward pressure with your index finger as the magazine is drawn upward allowing the SNAGMAG™ to "snag" the back corner of the pocket, keeping the holster in place while the magazine is pulled free.
Compliments of SnagMag
Compliments of The Shooters Mindset
Compliments of Gun Digest
Compliments of Norpoint Shooting Center
Compliments of Lenny Magill, Magills GlockStore
Customer Comments:
"The SnagMag really works." S
"Love it!" C
"Perfect" P
"Works perfectly. Just what I needed."