The Packin' Neat Bag & Purse Holster & Organizer by Packin' Neat, converts most medium to large purse, or briefcase into a concealed carry purse. Designed by a woman with a concealed carry license who wasn't happy with the concealed carry purses out there. Why settle for only one carry purse? Why not use all those purses already in your closet?
PLEASE CHECK CHARTS FOR SIZES.
(NOTE: The BOSS is plus $10.00 -- amount will be added when ordered.)
One Holster is Included with your Packin' Neat!
The Packin' Neat Tactical is an integrated organizer and holster all in one!
Per Packin' Neat: A revolutionary, patented design with 5 pockets, and an integrated correctly positioned firearm holster. The Tactical adjusts to fit the width of your purse.
The Packin' Neat system is a combination of purse organizer and holster all in one. The perfect solution to keeping your firearm properly positioned, separated and easily accessible while organizing your purse at the same time. Use the available pockets to house extra magazines, cell phone, car keys, wallet, and more.
As with all the Packin' Neat holster systems, this product includes a removable holster.
Made of 100% durable Nylon and forming products, this product combines a purse organizer with a holster to keep your firearm positioned correctly and isolated.
The firearm is stored in a downward facing direction to allow for quick and easy access when you need it.
If your purse allows, we recommend cross carry with your hand inside your purse and on the weapon in areas you feel you are vulnerable.
The design of the holster works best when the organizer contains multiple miscellaneous purse items which keeps the firearm in an upright position.
Now you can easily switch purses and carry when you wish. Best of all you can use your existing purses, designer purses and all.
Available in Black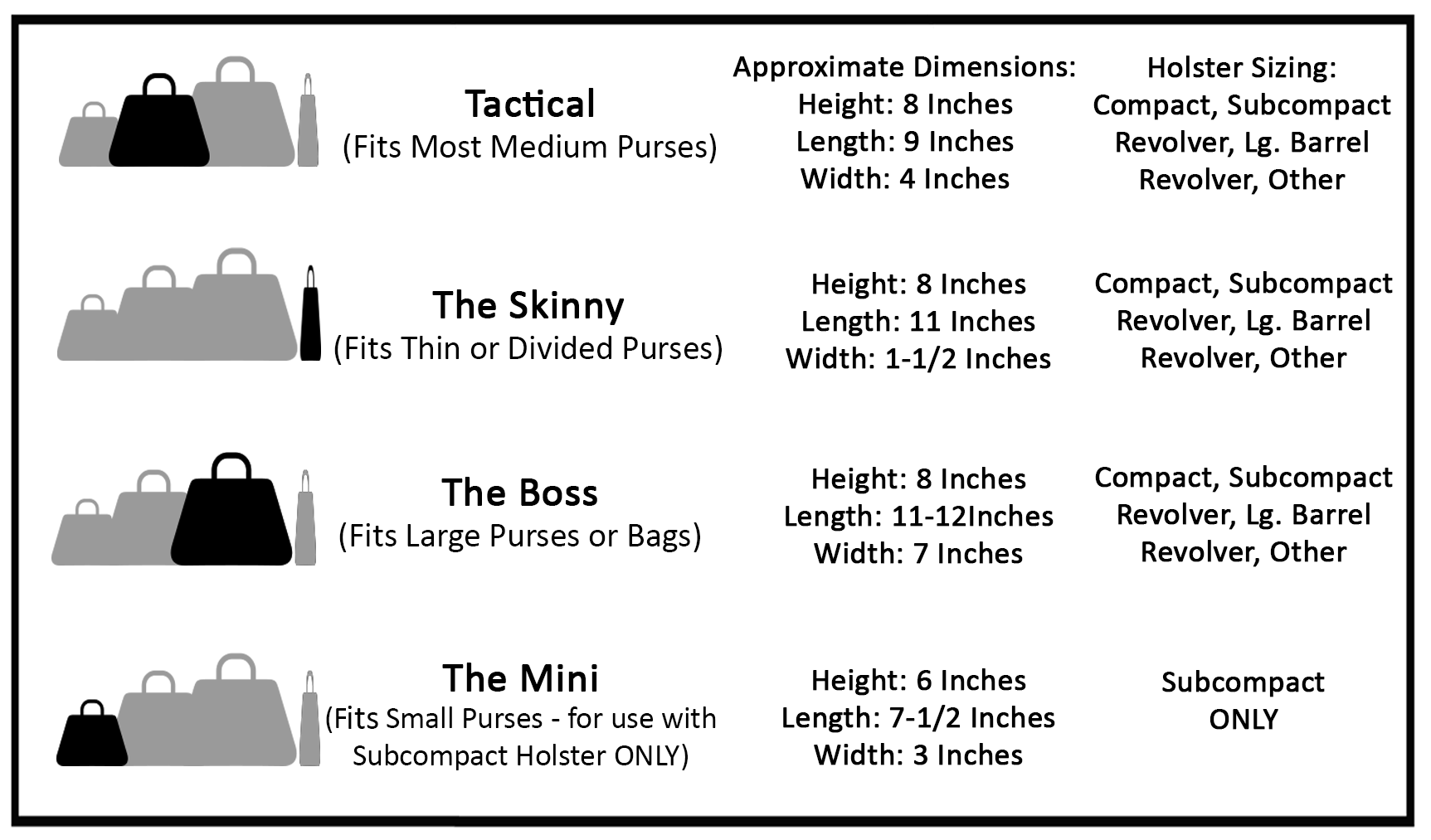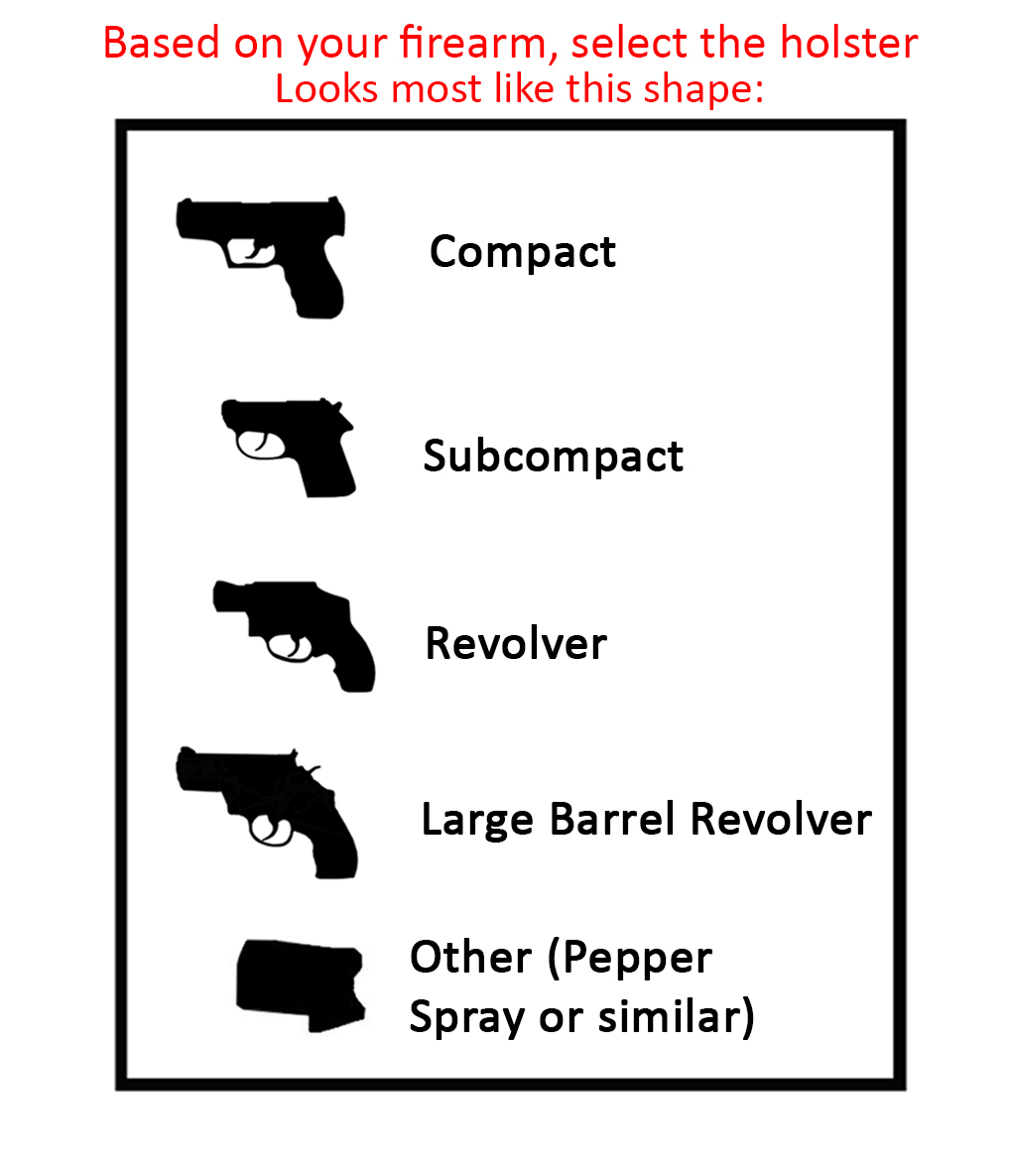 Compact size holster popular firearms include:
Glock G19
Glock G42
Glock G43
Glock 643
Glock 30S
Kel-Tec PF9
Kimber Solo
Kimber Ultra Carry
Ruger LC9S
Sig Sauer P229
Sig Sauer P238
Sig Sauer P290
Sig Sauer P935
Sig Sauer P239
Springfield XD, XDM, XDS
S&W M&P Shield
Taurus 605PLY
Taurus PT-709
Taurus 111G2
Taser Pulse
Most concealed carry firearms over 6″ in length
Subcompact size holster popular firearms include:
Berreta Nano
Kahr 380
Ruger LC9
Ruger LCP
S&W Bodyguard 380
Taurus TCP
Walther PPK
Kahr PM40
Most concealed carry firearms under 6″ in length
Revolver size holster popular firearms include:
Charter Arms Pink Lady
Ruger LCR
Ruger SP101
S&W Centennial 442 Airweight
S&W Model 64
S&W Model 60 3″ Barrel
Most concealed carry 'J' frame models
Large Frame Revolver size holster
Larger barrel/cylinder revolvers
The Packin' Neat holster system is designed so only the firearm will be revealed upon retrieval, leaving the removable holster insert behind.
CUSTOMER COMMENTS:
"Thank you. The Packin Neat is made well and works well. R
"Received mine faster than expected. It's exactly what I needed. M
"The Packin Neat Has surpassed my expectations. Love it. G