The
KingTuk Deluxe Kydex and Leather IWB Holster
by Galco is a tuckable holster that is comfortable to wear, and offers excellent concealability.
Per Galco: "Worn inside the waistband, the KingTuk Deluxe's removable metal belt clips (fitting belts up to 1 3/4") can be moved up or down in the corresponding holes in the leather, enabling the user to set the carry height and angle to suit their unique preferences."
Hybrid Kydex/premium steerhide construction
Premium center cut steerhide lining
Tuckable design with metal belt clips and optional patented C-Hooks
Raised sweat guard to protect pistol and wearer
Kydex holster pocket for fast draw
Kydex pocket for easy holstering
Standard metal clips fit up to 1 3/4" belts
Available in black, only

Optional, interchangeable injection molded nylon C-Hooks – fitting belts up to 1 1/4" and sold separately – are also available. The C-Hooks offer an even lower profile on the belt, and further increase the KingTuk Deluxe's already excellent concealability!



Click Here for the Tuckable Belt Loops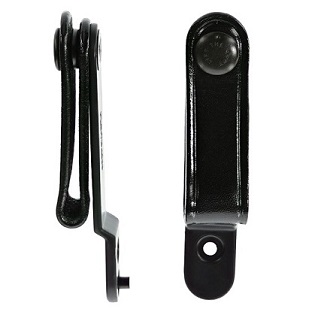 Click Here for the C-Hook Accessory