The Flashbang Teddy Edition Bra Holster by Flashbang Holsters is 'soft'. Yes, it is comfortable to wear.
And, you can wear the style of clothes that you prefer and still carry a concealed weapon. Perfect!
NOTE: Nude is the price listed. The other colors are an additional $10.00.
Per Flashbang Holsters: "The Flashbang Teddy Edition takes the concealability and quick access of our original Flashbang Holster and covers it in an incredibly soft and luxurious nude suede that feels AMAZING against your skin!" "You CAN carry a gun and dress like a girl!"
Why choose the Flashbang Teddy Edition? The gals at Flashbang Holsters explain it so well: "Guns are hard! They're sharp and pokey, and when it comes right down to it nobody looks forward to having to protect your family, but why does it have to be so unpleasant??" The Teddy Edition Bra Holster is the answer!
More about using a bra holster:
You just pop your gun into the clamshell (basically an upside-down taco shell)
Tuck it up under the front of your bra band
The bra band does all the work -just like normal- and holds the gun in position
The holster does its part by covering the trigger to keep it from accidentally being pulled
Keeps the moisture and oils from your body off the gun as well as keeping the pokey parts of the gun off your skin
As you draw your firearm, the strap on the holster keeps it from coming along with your gun
For the best fit for you: Be sure to watch the last video.
Constructed just for you:
Soft natural suede on the holster exterior
Feels great against your skin
Helps with moisture control and breathability
Sturdy .080 Kydex offers great firearm retention without added bulk
Washable
Holster securely covers trigger guard so you KNOW it's safe
Each Flashbang comes with three different straps (short, medium, and long) to accommodate different bra bandwidths.
Handmade in Oklahoma City, USA
Washing directions:
Teddy Edition Bra Holster is washable to help keep you feeling fresh and smelling sweet
Use a little dish soap or shampoo and wash by hand in warm (not hot) water
Allow to air dry overnight
Straps for the Flashbang Teddy Bra Holster
A "Strap Set" is included with each holster -- Short, Medium & Long Strap
"Strap Sets" accommodates bra bands up to 4" wide
Recommendation per Flashbang Holster: Use only Nude straps with the Flashbang Teddy
Order Accessory Leather Straps Pack separately. See Links below.


Click Here to order the Flashbang Bra Holster Accessory Leather Straps Pack.
Click Here to order the EXTRA LONG STRAP to accommodate 5" bra bands.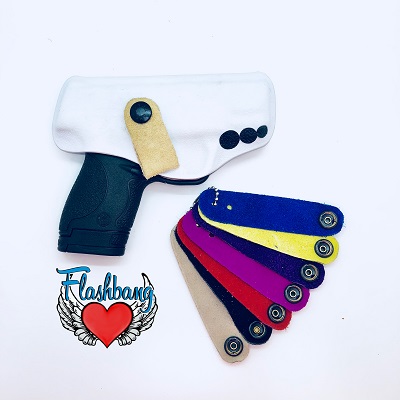 These accessory straps are just like the soft leather straps that come with the Flashbang and Marilyn pistol holsters. The Marilyn gun holster, however, only utilizes the two longer leather straps.
Available Colors:
Berry Set
Black Set
Flashbang Red Set
Lime Green Set
Royal Purple Set
Royal Blue Set
Turquoise Set
One Additional Nude Strap Set may be ordered when purchasing this holster
Extra Long Straps will accommodate 5" bra bands, are ordered separately
Click Here to order Extra Long Strap