The 'Nomos' Custom Leather OWB Handgun Holster by Soteria Leather, works best for anyone who wears a sports jacket, or longer t-shirt. This gun belt holster is comfortable to wear; and, your concealed gun will stay close to your body.
Outside the waistband gun holster
Constructed of leather from American cattle
Comfortable to wear
Your concealed handgun hugs close to your body
Belts slots for this OWB holster are 1.5''
If you need larger belt slots, please add the information to the comments
Available in Right-Hand and Left-Hand designs
Make the 'Nomos' Concealed Carry Holster 'yours'
Choose from 26 thread colors
Choose from 3 leather colors
Made in the USA.
Your custom holster will ship in 14 - 16 weeks

The Name: Nomos was the 'Spirit of Law' in Greek Mythology.


The Nomos OWB Holster is available for the following weapons. (If you do not see your weapon as an option, please email us at: support@concealedcarrypro.com)


1911 3.5"
1911 3", Commander, Government, Government with Rail
Beretta M9, PX4 Storm Subcompact, Nano
Bersa Thunder
Boberg XR9S
Browning Buck 5.5, Hi-Power
Caracal C, F
Chiappa Rhino 20DS
Colt Detective
CZ-75
Diamondback 9, .380. .380 w/Crimson Trace
FNP .45, 9, 40
FNX .45, 9, 40
Glock 17, 19, 20, 21, 22, 23, 26, 27, 29, 30, 36, .357, 42, 42 w/CT
Glock 43
H&K P7, USP Compact, P30, HK45
J-Frame
K-Frame
Kahr P380, P9, P40, PM9, PM40, CW9/CW40
Kel Tec PF9, P3AT, P32
Kimber SOLO, 1911 3", 1911 4"
NAA .45, .410 3" Derringer
Rohrbaugh R9
Ruger GP100 3", Ruger GP100 4"
Ruger LC9, LC9 with Crimson Trace, LC9 with LaserMax, LCP, LCP with Crimson Trace
Ruger LCP with LaserMax, LCR
Ruger SR9, SR9 Compact, SR40, SR40 Compact, MK111 5.5, SP101
Seecamp .32
Sig-Sauer 220, 226 with Rail, P224, P228, P229, P229 Elite with Rail, P225, P232, P238
Sig-Sauer P238 with Crimson Trace, P238 with Sig Laser, P239
Sig-Sauer P250, P250 Compact, P250 Subcompact
Sig-Sauer P290, P938, P938 w/crimson trace, Pro P2022
S&W 686 6", Governor, Model 41, 909, 908, 3913 Lady Smith
S&W Bodyguard .380, Bodyguard .38
S&W M&P Full Size 9, M&P Full Size 40, M&P Full Size .45
S&W M&P Compact 9, M&P Compact 40, M&P Shield, M&P Shield w/crimson trace
S&W Sigma, Sigma Compact
Springfield XD Full Size 9, XD Full Size 40, XD Subcompact, XD, XDS, EMP, XDS w/Crimson Trace
Springfield XDM Full Size 9, XDM Full Size 40, XDM 3.8"
Taurus 709, Judge 3" Barrel, TCP
Walther PPK, PPS, PPQ, PK380, P99
NOTE: A second row of stitching is an option for Soteria Leather's Custom Holsters. The picture is just showing an example of the stitching.

CLICK HERE: Double Stitching Option for Custom Holsters by Soteria Leather


Leather Color Options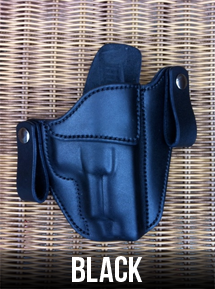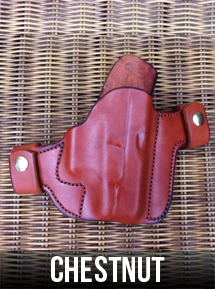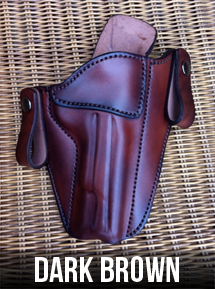 CUSTOMER COMMENTS:
Holster arrived today. Perfect. Thank you. A